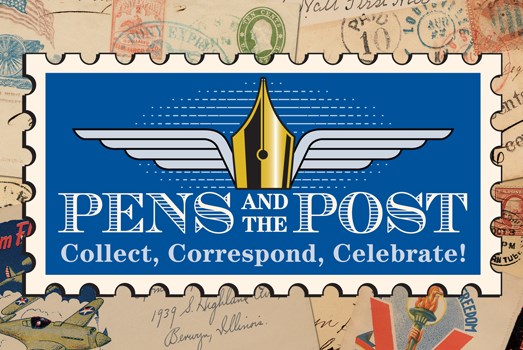 I only wish that I could attend!!
WHAT:
Pens & the Post: Collect, Correspond, Celebrate!
WHEN: Saturday, May 29 11 a.m. – 5 p.m.
WHERE: Smithsonian National Postal Museum
2 Massachusetts Ave. NE
Washington DC
The National Postal Museum, along with the Pen Collectors of America and Fahrney's Pens, are hosting "Pens & the Post: Collect, Correspond, Celebrate!" Pens, postage and mail have long gone hand in hand. Explore the shared history of pens and mail with the whole family.
The following activities taking place throughout the day:
· Make a creative card to send to a friend with young designer Sophia Breuer
· Watch an expert calligraphy demonstration by expert calligrapher Deborah Basel
· Take a fancy fountain pen for a spin at the "Pen Petting Zoo" provided by Fahrney's Pens
· Sample a rainbow of ink colors with John Bosley, author of Vintage Inks
· Try out beautiful papers from plain to posh with handwriting specialist Nan Barchowsky
· Just in time for Memorial Day, pen a letter to U.S. military members and learn about World War II-era correspondence.
· Meet the Pen Collectors of America and find out more about the pen collecting community
· See a pen set belonging to President Franklin D. Roosevelt and beautiful stamps featuring pens and handwriting in a scavenger hunt
Short workshops provide the opportunity to learn from the experts and try new skills:
· 11:30 a.m. – Pens for Kids Workshop presented by the Pen Collectors of America
· 12:30 p.m. – Cursive for Kids Workshop presented by Fahrney's Pens
· 1:30 p.m. – Pens for Kids Workshop presented by the Pen Collectors of America
· 2:30 p.m. – The Glory of Pen Collecting presented by the Pen Collectors of America
If you have questions please contact:
Meradyth Moore
Public Information Officer
Smithsonian National Postal Museum
2 Massachusetts Ave NE
Washington DC 20013
202.633.5509 (office)
202.633.9393 (fax)
mooreme@si.edu
http://www.postalmuseum.si.edu/
http://www.arago.si.edu/