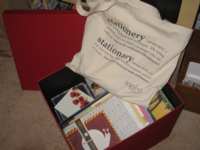 I swap with Swap-bot!
Friend and fellow blogger,
Postmuse
, has started a Swap-Bot titled "My Stationary is Not Stationery". If you are interested in participating it's really easy, just sign up. The requirements are simple. You will be partnered with another participant and swap as follows:
This swap is just a simple stationery exchange. Send three (3) different blank pieces of stationery (which includes lettersets, notecards, correspondence cards, aerogrammes (fold & mail), but not postcards) to one (1) partner. The stationery should be crisp, clean, attractive with coordinating envelopes (except for aerogrammes, which are their own envelopes). No homemade stationery for this swap, please. No religious, birthday, holiday or other special event sentiments.

By all means check your partner's profile for preferences, but this is a sender's choice swap.
Just sign up by July 1, click on the photo above to go directly to this swap, and have fun!!