[You can click on any of the photos to enlarge for more detail]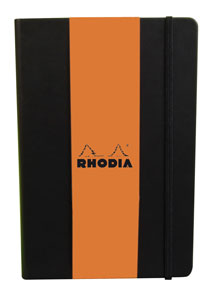 From the Rhodia website - click on the photo to go to the site
There are tons and tons of posts out there about the Dot Webbie (DW) and the Rhodia Webnotebook in general, this version is available in the same orange or black style with the Rhodia logo on the front and has the same essential pocket inside the back cover. I am limiting this post to a discussion of the paper which is the big change in this version. I will provide you with links to some of the general reviews later at the end.
In the following photo you can see the difference in the paper in the Dot Webbie and the DotPad that is available. The DW is only available with the off white paper that all the Webnotebooks come with, unlike the Rhodia Pads which are white. The paper is the same high quality Clairefontaine brushed vellum 90g that we have come to expect from Rhodia.
Here you can see a comparison of the DW with the white paper of the old version of the Quo Vadis Habana.
In natural light the DW pages are more cream colored than they appear under the florescent light inside. They are a very soothing off white and although I generally prefer white paper when writing I find this paper very pleasurable to use.
The dots are very light and unobtrusive on the page which is wonderful. This is one step from blank paper, which is also a personal preference.
The Clairefontaine paper performs as expected in the DW, excellently. It is smooth and wonderful with no feathering.
There is some slight bleedthrough with Noodler's Bad Green Gator, I love this color but it feathers and bleeds on almost every kind of paper, it's a miracle that it did not feather on this.
Although I really like this cream colored paper I would love to see the DW offered with the option of white paper. That being said, I cannot wait to finish using my lined Habana with the white paper, and begin using this on a daily basis, I think that I will be very, very happy.
As promised some links to wonderful reviews of the Rhodia Webnotebook:
If those aren't enough, just Google Rhodia Webnotebook.
Note: The last two photos are much truer to color - the first, under a florescent light, make the paper look much yellower that is actually is.